26.10.2021
20:01
20.27°C / 68.486°F
Megalithic Temples of Malta & Gozo
There are six main megalithic temples in Malta and Gozo with their original construction dating back to the 3rd and 4th millennium BC. These ancient dates mean that the Unesco listed temples of the Maltese Islands rank as some of the oldest free-standing stone structures on earth and they are renowned amongst archaeologists as being "unique architectural masterpiece and a witness to an exceptional prehistoric culture renowned for its remarkable architectural, artistic and technological achievements." (Unesco)
1. Ġgantija
The Gigantia megalithic complex in Gozo date back to between 3600 and 3200 BC and consist of two temples. These incredible stone structures are considered to be some of the oldest free-standing monuments in the world by leading experts whilst preceding Stonehenge and the Egyptian pyramids. Incredibly, these temples were constructed before the invention of the wheel and archaeologists believe that these structures were rolled into place using "spherical stones". The sheer size of some of these megaliths is breathtaking with many weighing over 50 tonnes each and measuring over 5 metres in height or length. These staggering proportions led to ancient stories of these megaliths being originally constructed by giants (hence the name Ġgantija meaning gigantic). Unesco stated that the Ġgantija Temples "represent a phenomenal cultural, artistic and technological development in a very early period in human life" whilst the temples are in a "good state of preservation" according to Heritage Malta and can be visited 7 days a week.
For visiting times and further information >> https://heritagemalta.org/ggantija-temples/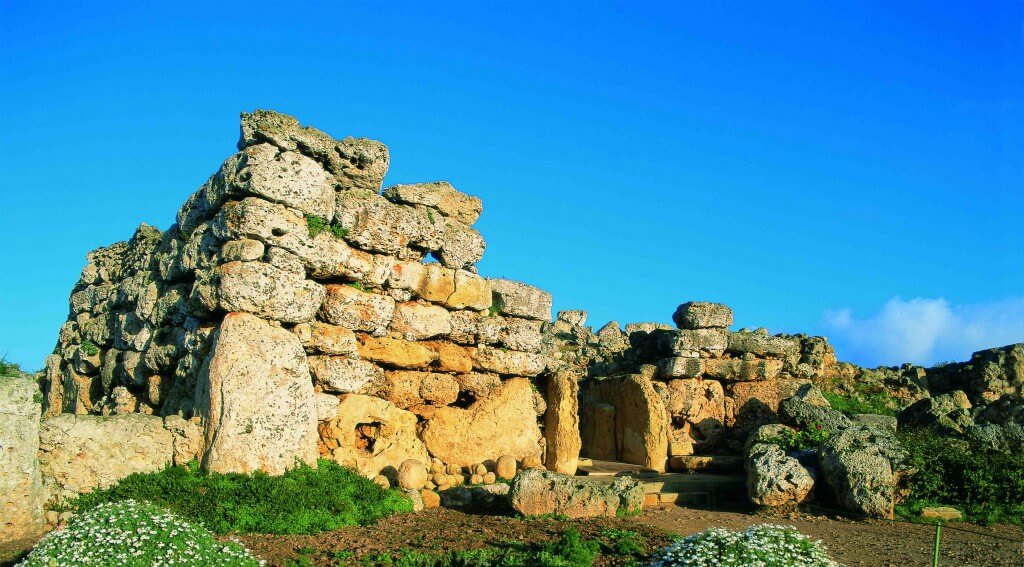 2. Ta' Ħaġrat
These temples on the outskirts of Mgarr (in the north of Malta) consist of a well preserved double structure with two "adjacent complexes". This collection of monuments are the only temples in the Maltese Islands that are constructed entirely from the local Upper Coralline Limestone. Ta' Ħaġrat was excavated between 1923 -1927 by Sir Temi Zammit and it is widely thought that the biggest of the structures were originally built back in the Ġgantija phase (3600 – 3200 BC) with later additions suggested around the Saflieni phase (3,300 – 3,000 BC). This site represents an outstanding example of megalithic construction techniques and it is extremely impressive especially given that the workers were using simple tools of the time made from wood, stone and bone.
For visiting times and further information >> https://heritagemalta.org/ta-hagrat/
3. Skorba
Skorba is located in Żebbiegħ, a rural area near Mgarr and is quite close to Ta' Ħaġrat. The site was excavated by the famous archaeologist David Trump in the 1960s and it has been listed as a Unesco World Heritage Site because of its "archaeological value" and contribution to "the understanding of Maltese history". Skorba consists of two temple structures dating back to the Ġgantija Phase and the Tarxien Phase which came later but most importantly this site has provided a wealth of "crucial evidence" about the domestic and dietary habits of the people and builders that lived there. It is stated that some of the stone structures date back to before 3600 BC (Temple Period) and are consequently some of the oldest free-standing monuments in the Maltese Islands and indeed the world.
For visiting times and further information >> https://heritagemalta.org/skorba/
4. Ħaġar Qim
The spectacular hillside setting of these temples is absolutely breathtaking with panoramic views out across the Mediterranean Sea and towards the tiny island of Fifla. The site is about 2km away from the village of Qrendi and is also next to the other Unesco World Heritage Site of Mnajdra. Ħaġar Qim was first excavated in 1839 and the original construction suggests it was built in the Ġgantija phase which dates back to 3600 – 3200 BC. This site is similar in layout to the other Maltese temples and features a central building and further remains of two or more structures. Some of the ancient megaliths used in the construction of this site weigh approximately 20 tonnes and are 5.2 metres high. One of the temples at Ħaġar Qim also aligns with the sunrise of the summer solstice, with the sun's rays lining up exactly through a hole in one of the stone structures. There were also some incredible discoveries in and around these temples with various statues and carvings being excavated over the years including the Venus of Malta – a goddess of fertility.
For visiting times and further information >> https://heritagemalta.org/hagar-qim-temples/
5. Mnajdra
This complex set of temples is located just 500m away from Ħaġar Qim in a spectacular position overlooking the Mediterranean Sea and the small island of Fifla. Mnajdra has three monuments or structures built around a forecourt area with many being intricately marked and decorated. The oldest temple on this site was constructed in the Ġgantija phase around 3600 – 3200 BC but it is the third temple (3150 – 2500 BC) that is one of the most impressive as it is one of the best-preserved temples in the Maltese Islands. Like with the temples at Ħaġar Qim these structures have been intelligently aligned with the first day of the spring and autumn Equinox, as well as the summer and winter Solstices, which displays an immense understanding of astrology. This Unesco World Heritage site is also a fine example of building and masonry techniques of the prehistoric period.
For visiting times and further information >> https://heritagemalta.org/mnajdra-temples/
6. Tarxien
The temples on this site were discovered by farmers in 1913 and were consequently excavated between 1915 and 1919. There were further archaeological examinations and adjustments during the 1920s by Sir Themistocles Zammit (Director of Museums). This set of structures range in age from 3600 – 2500 BC and there is evidence to suggest that this site was "reused" between 2400 – 1500 BC as a Bronze Age cremation cemetery. The Tarxien Temples also feature some of the finest stonework and carvings with impressive pictures of livestock including bulls, goats and rams.
For visiting times and further information >> https://heritagemalta.org/tarxien-temples/
For more ideas about where to visit in Malta have a look at our blog '10 unforgettable experiences in Malta'
Images used in this article courtesy of http://albums.viewingmalta.com/