11.08.2020
05:58
24.26°C / 75.668°F
On set with 'A Place In The Sun'
Just a few days ago, Perry Estate Agents had the privilege of hosting one of the UK's most popular and successful real estate TV programmes, 'A Place in the Sun'. The chosen property from our portfolio (to be featured in the programme) was a magnificent Detached Villa in Madliena (a prime location here in Malta), which was an ideal choice as it has an abundance of luxurious features including a swimming pool with surrounding sun terraces, a large open-plan living area, fully fitted modern kitchen, 5 bedrooms, 5 bathrooms, a gym, a cinema room, as well as a wine cellar and a 4 car garage.
Not knowing who would be asked to run the show, and secretly hoping they would opt for respective owner owing to the fact I was quite nervous at the idea of appearing in front of the camera; although well aware it wasn't a Steven Spielberg Hollywood blockbuster we were talking about, but a popular, highly rated program nonetheless, I was quite taken aback when the producer insisted I be the designated person alongside their presenter, and although quite tentative initially, to say the least, I quickly eased into my temporary new role and with the help of the lovely film crew, I adapted relatively well to the filming environment.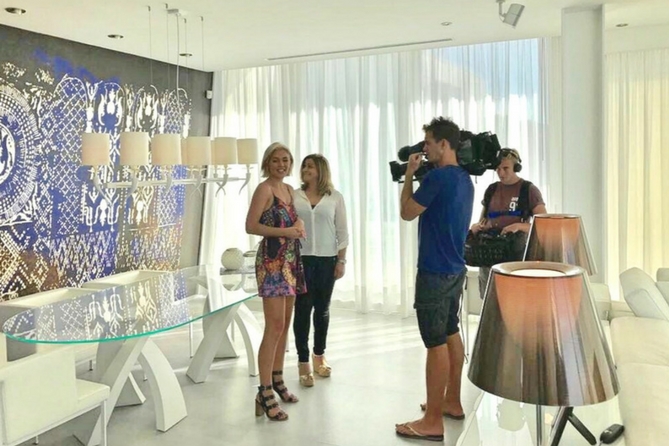 So, as soon as the sound technician kitted me up with a very discreetly hidden microphone, and cameraman in position, the producer proceeded in giving directions accordingly, and since I had thankfully also done my fair bit of research relating to this stunning property before arriving on site that day, wanting to have all answers and information ready on hand, things flowed perfectly, and amidst a few laughs and take twos and threes, we finally got it all done, concentrating mainly on specific areas of this property, such as the unique 3D cinema room, and the glamorous man cave with wine cellar, which all of the film crew were thoroughly impressed by, as they were with the property overall.
A lovely experience that I would very gladly go through all over again; nerves, jitters and all.
In conclusion, and as the popular saying goes, 'one for the books!'
Written by Daniela Naudi – Operations Manager & Senior Associate at Perry Estate Agents
The property reference for this Villa is DV500022