11.08.2020
06:22
23.86°C / 74.948°F
Perry Estate Agents Staff Trip 2017
Perry Staff Trip – 8th October 2017
What a truly amazing day, in great company, a stunning location, all perfectly organised courtesy of the one and only Perry Estate Agents! Starting from the beautiful quaint town of Modica, proceeding to Marina di Ragusa, followed by a scrumptious seafood restaurant in Scoglietti, and finishing off in style in pretty Ragusa Ibla, the annual staff excursion was a success from the word go; certainly not lacking in laughter, fun, and surprises throughout.
On our first stop in Modica we were immediately taken to one of UNESCO's World Heritage sites, the Baroque church, 'Duomo di San Giorgio', which although we had to climb a good 260 steps to get to, tied in with a fair bit of whining and giggles along the way due to the 'arduous' task, there was a unanimous decision that it was well worth it, owing mainly to the breath-taking view, and of course the beautiful Cathedral itself.

After a stroll in the pretty piazza, accompanied by delicious sweets, such as the traditional 'cannolo', (clearly a must when visiting 'Bella Sicilia'), we proceeded to Marina di Ragusa, with its beautiful stretch of sandy beach, bustling promenade and pretty shops; although luckily not half as busy as the peak summer months, thus allowing us to enjoy the peace and tranquillity while sipping an Aperol Spritz by the sea, chatting, bonding and watching the world go by.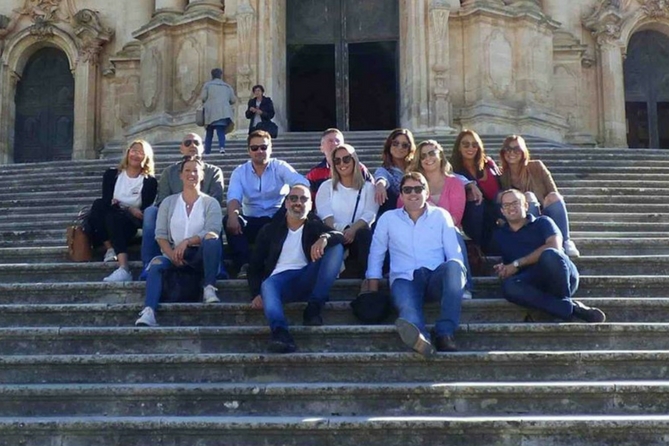 As lunchtime closed in we were understandably rather peckish and all too glad to head to another pretty seaside town, Scoglietti, where a delicious seafood restaurant awaited us and saying that we were all thoroughly satisfied with the lovely selection of fresh seafood, free-flowing wine and great atmosphere overall would be an understatement.
Last but definitely not least was the picturesque Ragusa Ibla, where we enjoyed a final stroll around its charming piazza and serene surrounding gardens, taking a few last-minute snapshots, after which we slowly headed back to our coach, marking the end of a truly unforgettable day!
Let us also take this opportunity to thank all of our staff for their hard work and dedication in 2017 and for making it such a memorable day. Needless to say, we are all looking forward to the next one!
Daniela Naudi – Operations Manager & Senior Associate