02.12.2023
00:53
20.27°C / 68.486°F
New Perry Magazine | Issue #60 – Edition 2021/22
We've just published our new 'Perry Magazine' for 2021/22 featuring some of the finest Residential and Commercial properties in Malta.
Welcome to the 60th edition of our Perry Magazine
As with previous editions, this publication is focused on our latest portfolio, including only the very best quality residential and commercial property currently for sale and for rent. We aim to give the reader an in-depth insight into what's on offer on the market at present. While digital marketing is essential in today's market, we firmly believe that print marketing is not to be ignored in the segment of the market which we serve and lead. Our leading publication is an essential part of launching our portfolio and by means of this very sought-after magazine – which is also available online – we cover every area, thereby giving our clients the best exposure for the properties they entrust us with.
This publication, like previous editions, features some very interesting and historic properties and their fascinating history. What began as a guide and resource for property owners and prospective buyers on what is new to the market, has grown into an in-depth read. Today the publication includes features on local history, art, culture, real estate interviews, opinion pieces and more. In the commercial section, our expert commercial hub offers practical, strategic, and market-led advice as well as insights for businesses on the impacts of COVID-19 on pricing. As landlords and tenants adapt to a new reality, the market remains very stable and presents new opportunities in many of the commercial segments. The pandemic has challenged accepted assumptions on rental rates which our Head of Commercial – Simon Rajan Bharwani explains in further detail in our commercial section.
Founded in 1981 we pride ourselves on having been present at the forefront of the property market for over four decades, our experience and expertise span the Maltese islands and our professional team provides the best-in-class advice as we continue to assist individuals, families, and businesses to make the best property decisions. We hope you enjoy this edition.
This year, our coveted front cover features an oil painting entitled 'Grand Harbour Malta' signed by Girolamo Gianni and dated 1868. Girolamo Gianni was a renowned Neapolitan Romantic painter who made a name for himself both in Malta and abroad.
During his years in Malta between 1886 and the late 1880s, he built up a flourishing business and produced numerous marine and landscape paintings. He also painted scenes of Naples, Rome, Constantinople and other localities. His legacy as a 'caposcuola' in Malta was inherited by several Maltese artists.
'Grand Harbour Malta' signed by Girolamo Gianni and dated 1868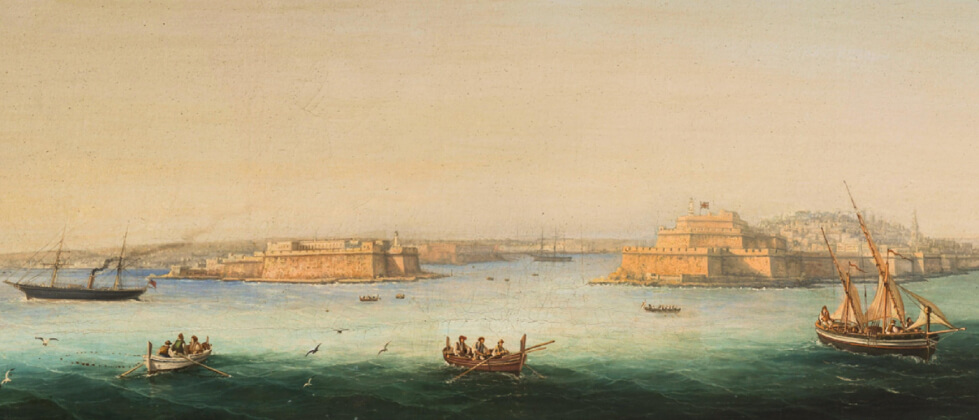 Written by Robert Spiteri Paris – Managing Director of Perry Estate Agents with a contribution from Albert Ganado
To order your FREE copy of this edition (or previous issues) one may get in touch with the Perry team via the details shown below. The publication continues to serve as a valuable resource for prospective purchasers and tenants alike.
Contact us: 
Call: (+356) 2131 0800 / 0088
Email: perry@perry.com.mt
Click here to send us a message